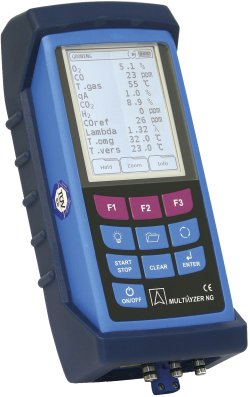 Multilyzer NG
The Multilyzer NG is a user-friendly device with an illuminated LCD screen capable of displaying 10 readings at a time. The order of measurements can be configured individually to suit the users' needs while being able to measure in two active levels of display.

Qualitative, graphical analysis of the measured data according to a combustion diagram for small gas- and oil-firing facilities is a standard function. Dynamic memory organization allows up to 100 sets of measurements to be stored in the analyzer. The choice of fuels can be increased individually and all fuel-specific factors can be entered (up to five programmable fuels).

A USB data interface for PC, Laptop and Notebook applications is available for this analyzer (Microsoft Excel and Word compatible). As well, an infrared interface for the EuroPrinter and HP-thermoprinters is standard.
Compatability
Equipped with an internationally standardized plug system, compatible with temperature sensors of all kinds (specified for all K-type NiCr-Ni thermocouples), this flue-gas analyzer can be used with up to six electro-chemical cells in multiple combinations (O2, CO/H2, H2 compensated, NO, SO2, NO2 and COhigh) ordered at time of purchase.
Pressure Measurement
Separate measurement programs for the differential pressure and temperature have a min/max display for all readings with a reset function. Pressure measurement units, such as hPa, PSI, mmH2O, inchH2O, mmHg and inchHg, can be chosen for all pressure measurements.
Purchase Kit
The kit includes:
Multilyzer NG flue-gas analyzer
Carrying case for accessories
Flue-gas sample wand
Ambient air temperature sensor
Condensate/ filter assembly
HP infrared printer
AC power supply/ charger
Ordering Information
Multilyzer NG - P/N 708032
For your convenience, we now accept Interac, Visa and MasterCard in-house.

Please email (sales@kwe-tech.com,)
or call us at (519) 747-5042 for pricing
Accuracy
Device sensors automatically perform a self-diagnosis, and monitor critical values with activated sensor protection for the H2-compensated CO-sensor.

The four different units available for the measured toxic gas values are ppm, mg/m3, mg/kWh and mg/MJ. The Multilyzer NG also offers precise calculation for the Efficiency value for all kinds of heating devices and condensing boilers, with fuel-specific calculation of the dew-point.

The pellets-fuel specific calculation of Eta and qA is also suitable for Pellets-firing-facilities. The COmax display for CO peak values is best suited for measurement of ambient CO. An additional option for the Multilyzer NG is an enlarged range for CO measurement up to 2.0 vol.% for solid fuels, as well as measurement of various other solid fuels.
Battery
This analyzer is equipped with a powerful NiMH-battery with up to 12 hours of use, including use of display backlight. It can be recharged more than 500 times, and the analyzer itself comes with an external recharger.

Please see our Leasing Program for Systronik analyzer leasing information.
---
Overview
Specifications
Documentation
Features
Sophisticated technical device for professionals
Professional look and simple handling
Can be used with up to 6 electro-chemical cells
Large display can display a max. of 10 readings at a time
Light and user-friendly
Background illumination
Easy, plausible and almost intuitive user-guidance (Easy-To-Use)
Measuring in two active levels of display (Multi-Tasking-Mode)
Powerful NiMH-battery can be in use for up to 12 hours (display lighting included). Can be recharged more than 500 times
Intelligent and careful method of recharging battery with external charger
Internationally standardized with unlimited compatible plug system for various temperature sensors (specified for all K-type NiCr-Ni thermocouples)
Choice of fuels can be enlarged individually with up to 5 programmable fuels (all relevant fuel specific factors can be entered)
Status line displays specific information for device and system respectively
Individual free programmable configurations for measurement
The order in which the values are measured can be configured individually
Device and sensors are checked automatically (self-diagnosis)
Efficient and safe monitoring of critical values with activated sensor protection for H2-compensated CO-sensor
Four different units for the measured toxic gas values are available (ppm, mg/m3, mg/kWh and mg/MJ)
Separate measurement programs for pressure and temperature with min./max. display for all readings with reset function
For all pressure measurement units can be chosen (hPa, mbar, PSI, mmH2O, inchH2O, mmHg and inchHg)
Precise calculation of the efficiency value for all kinds of heating devices and condensing boilers
COmax display for CO peak values
Memory organization for up to 100 sets of data (measurement protocols)
USB data interface for PC/Laptop/Notebook applications
Bluetooth interface for Notebooks and PDA pocket computers (optional)
---
Image Gallery