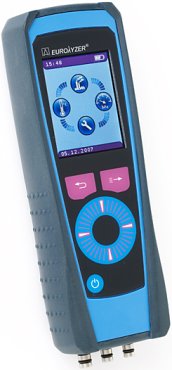 Eurolyzer ST
The sophisticated and redesigned Eurolyzer ST is an ergonomic flue-gas analyzer that is light in weight, and has been upgraded to provide proven state-of-the-art technology, such as innovative sensors for accurate readings.

The easy to use display offers a status line for specific information on the device and system. This Systronik analyzer is also equipped with a scrolling touchpad.

Data transfer has been simplified to USB communication, with an infrared interface for the EuroPrinter, to document measured results directly on site.

Please see our Leasing Program for Systronik analyzer leasing information.
Purchase Kit
The kit includes:
Eurolyzer ST flue-gas analyzer
Carrying case for accessories
Flue-gas sample wand
Ambient air temperature sensor
Condensate/ filter assembly
HP infrared printer
AC power supply/ charger
Ordering Information
Eurolyzer ST - P/N 708029
For your convenience, we now accept Interac, Visa and MasterCard in-house.

Please email (sales@kwe-tech.com,)
or call us at (519) 747-5042 for pricing
New Technology
The Eurolyzer ST is compatible with an array of temperature sensors. Its connector system for K-type thermocouples ensures unlimited compatibility for the use of all types of temperature sensors. The device and its sensors are checked automatically through self-diagnosis, but monitoring of critical values with activated sensor protection for the H2-compensated CO sensor can also be operated manually.
Sensitivity
The Eurolyzer ST can be used with up to three electro-chemical cells in various combinations, such as O2, CO/H2 (H2-compensated) and NO, with an extended CO/H2 range up to 9.999 ppm.
---
Overview
Specifications
Documentation
Features
Sophisticated technical device for professionals - unbeatable value for the money
Can be used with up to 3 electro-chemical cells in variable combinations - O2, CO/H2 (H2-compensated) and NO
Extended CO/H2 range up to 9.999 ppm (nominal range 5.000 ppm)
Unlimited compatible plug system for various temperature sensors(specified for all K-type NiCr-Ni thermocouples). This connector system for thermocouples (type K) ensures unlimited compatibility for the use of all types of temperature sensors.
Individual free programmable configurations for measurement (program macros)
True Colour TFT screen displays maximum of 4 respectively 10 readings at a time(two different fonts available)
Device and sensors are checked automatically (self-diagnosis)
Innovative sensors (no loss of accuracy due to dirty filter elements)
USB interface for PC/Laptop/Notebook applications
Infrared interface for EuroPrinter and HP-thermo printers
Three different units of measured toxicant gas values are available (ppm, mg/m3 and mg/kWh)
For all pressure measurements, units can be chosen (Pa, hPa, mbar, PSI, mmH2O, inchH2O, mmHg and inchHg)
Options:
Bluetooth interface for PDA and laptop computers
EUROSOFT PC software available for analyzing and processing the data (Excel and Word compatible)
---
Image Gallery